http://www.citylab.com/commute/2016/04/celebrate-bike-safety-with-phoenixs-incredibly-gruesome-comics/479874/
From The Atlantic
CityLab
Phoenix's Incredibly Gruesome Graphic Novels Emphasize Bike Safety
"You can see his brain!"
A boy sits dazed, half his brain exposed; another screams "YEEE-ARGH!" while blood rushes from a gut wound. Are these previews of next season's The Walking Dead?
Scarier! They're potentially real-life scenarios illustrated with gory gusto in Phoenix's new bike-safety graphic novels. To get people freaked out concerned about defensive biking,* the city has produced a series of comics showing the brutal consequences of common cycling mistakes like blowing red lights and riding in a blind spot.
In the edition "Don't Get Doored," for example, a lad on the way to see his brother in the hospital (who was put there by not wearing a helmet, natch) smashes through a car window, lands on his head, and winds up with a weeping belly wound and a hand that looks like a broken rake. And that's a tame scene compared to other stuff in the novels, which accompany each fracture and body-blow with Batmanesque noises like "KA-CHAM!," "KA-SNAP!," and "GA-GUSH!"
Why is it boys getting totally wrecked in these comics? "Based on our most recent collision data report, boys continue to make up 80 percent of the crash victims below the age of 18 and 80 percent of the 12-17 cohort," says Monica Hernandez, a spokesperson for Phoenix's Street Transportation Department. "Our book series was designed with input from a focus group that included representatives from schools and parents as a way to get through to this at-risk section of the population."
The city spent about $18,700 to produce the booklets and is distributing them at bike-safety events and in schools, according to The Arizona Republic:
"I thought, 'This can't be real,'" said Nichole Schaffer, whose 9-year-old daughter received one of the comic books last week during a safety event for third- and fourth-graders at Madison Heights Elementary School…

Illustrator Rob Osborne said he quickly realized while working on the project that the goal was to be over the top. He said he was initially concerned about the reaction to his drawings of exposed brains and carnage, but he's heard little negative feedback…

Some pictures were dialed back from earlier sketches, he said, including one of a cyclist smashing through a car door.

"We reattached the fingers for the final art," Osborne said.
Ready to stare in fear at your bike in the corner? Here are some of the series' gnarlier highlights: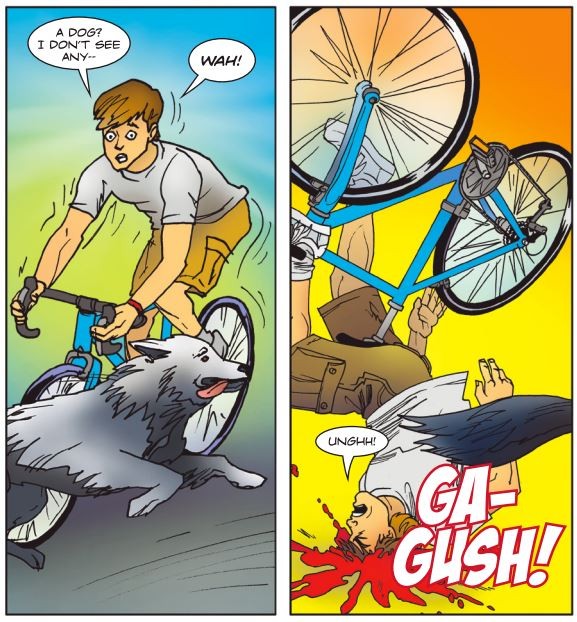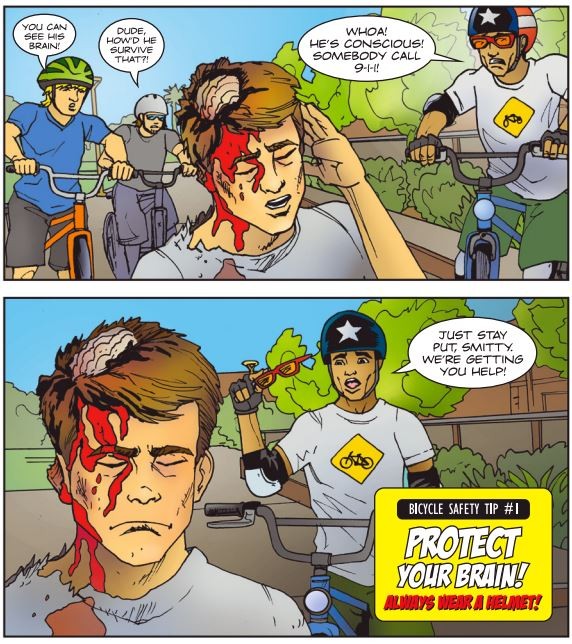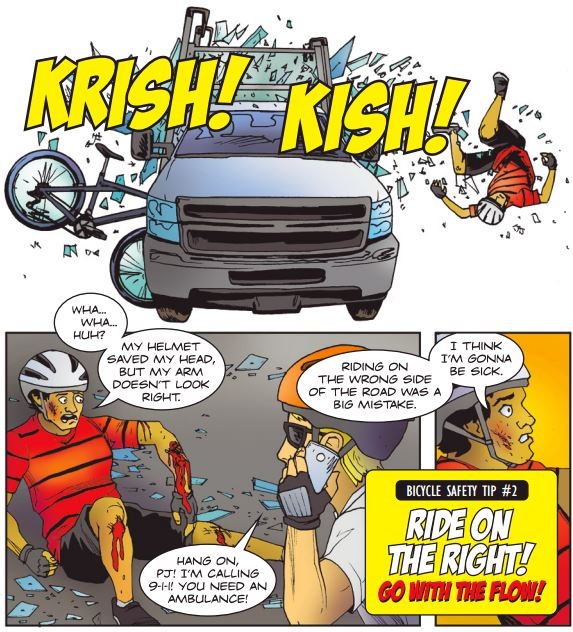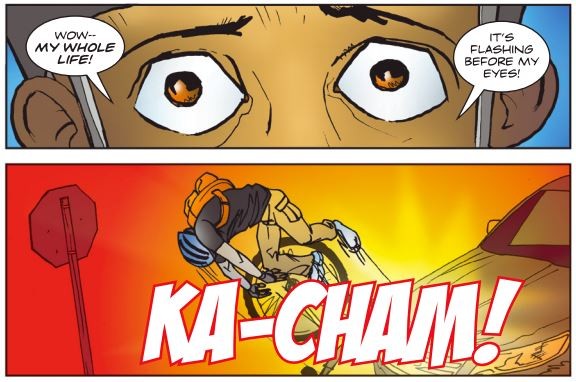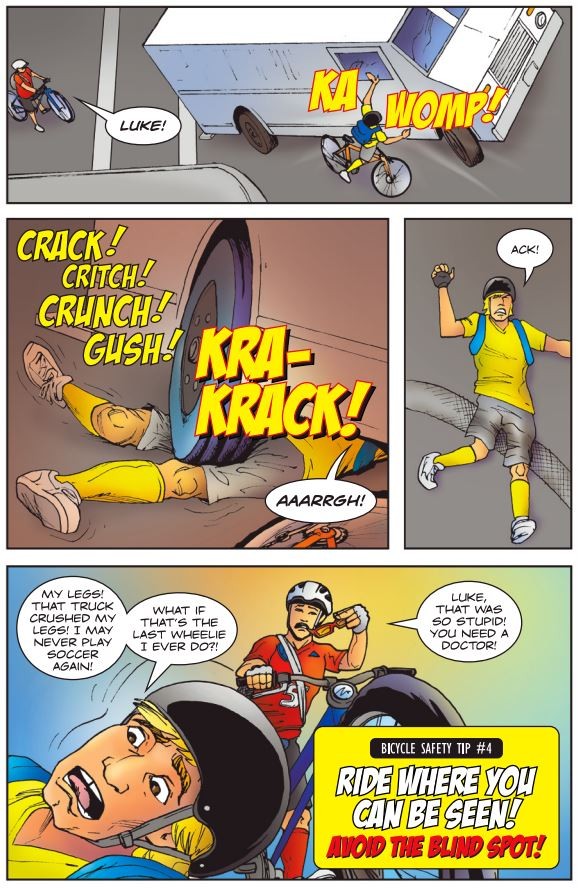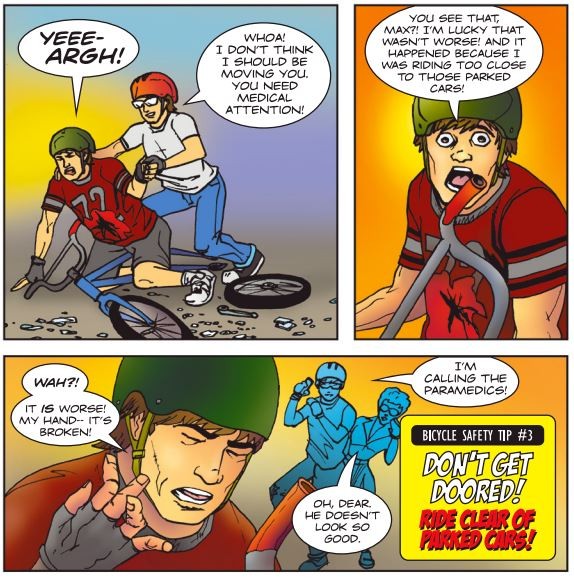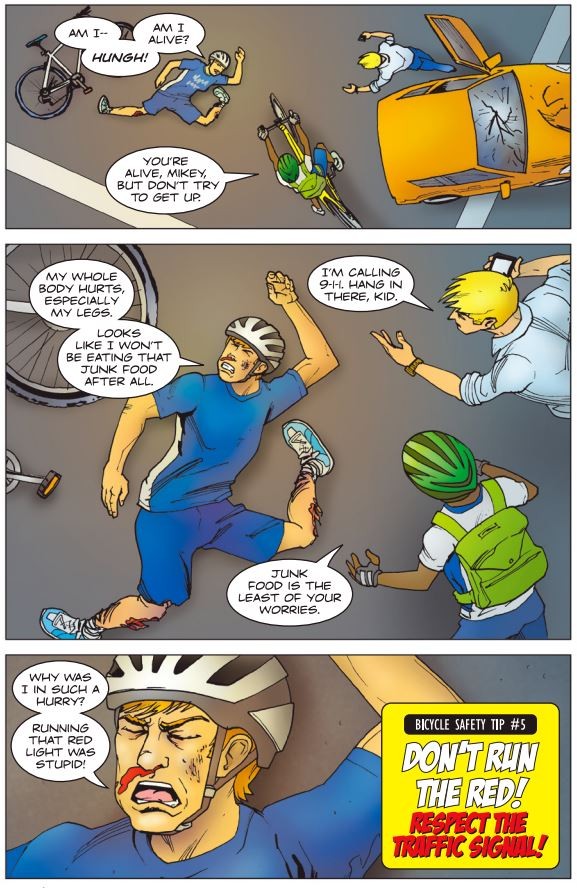 * Correction: The city produced these comics over the past several years, not just now ahead of National Bike to School Day as originally stated.
H/t Momentum Mag
Find all of the comics here: https://www.phoenix.gov/streetssite/Pages/Graphic-Novels.aspx